Congratulations to the following two winners of the Rowe Scientific scholarship, covering the years 2017 and 2018, from the staff of Rowe Scientific Pty Ltd.
Mr Stephen Delwig
In Stephen's own words;
"I completed both primary and secondary education in the Victorian western districts town of Camperdown. Neither of my parents were able to work during this time; my father is disabled and my mother cares for him.
After completing my final year of VCE, I acquired financial support in the form of a Dafydd Lewis Scholarship and moved to Ballarat to pursue my tertiary studies. I initially pursued a Bachelor of Mechanical Engineering at the University of Ballarat (which has since changed names to Federation University) but after two years, I decided that engineering was not my desired profession and changed courses to study a Bachelor of Science at Federation University.
I have now completed my Bachelor of Science degree (biochemistry major, microbiology minor). I have now moved to Geelong to pursue a chemistry Honours degree at Deakin University (Geelong Waurn Ponds campus).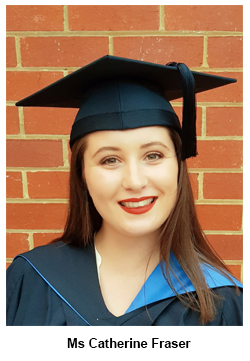 Ms Catherine Fraser
In Catherine's own words;
"I have recently completed a Bachelor of Science with Distinction from Deakin University. I will be undertaking an Honours year in 2018, and following this I intend on completing a PhD.
I have learnt a great deal about myself in my three years of undergraduate study. I have also developed professional skills that are applicable to any career path, and most significantly I found where my passion lay; chemistry.
Having a passion for my field has enabled my skill development. Naturally, my discipline specific skills have developed greatly, most notably, I believe, are the skills I have acquired and improved in teamwork, self-management, and critical thinking
Pursuing a career in chemistry has pushed and challenged me to take on any opportunity to learn.