The following are the two 2017 Rowe Scientific Metallurgy scholarship winners.
Mr Brendan Jones
In Brendan's words;
My name is Brendan Jones and I am a current student at Curtin University studying a double degree in Chemical Engineering and Extractive Metallurgy.
At the end of 2017 I will have finished my third and final amazing year at Curtin's West Australian School of Mines (WASM) in Kalgoorlie. Extractive metallurgy is a specialist field that deals with the extraction of metals and mineral products from their ores through the application of scientific principles.
Extractive metallurgists play a key role in the mining industry. Throughout the last three years at Curtin I have enjoyed every discipline which involved chemistry, and metallurgy is no different. Metallurgy incorporates all the best elements of practical chemistry from leaching to electrochemistry.
I enjoy the challenges that metallurgy provides, particularly when analysing or partially designing process flow systems and understanding the mechanisms involved.
Although learning about metallurgy is fascinating, I am very much looking forward to putting my theoretical knowledge into action with upcoming vacation work and potential employment in the mining industry in the future. I would like to extend my gratitude to Rowe Scientific for providing me with financial aid and allowing me to continue to enjoy the field of metallurgy.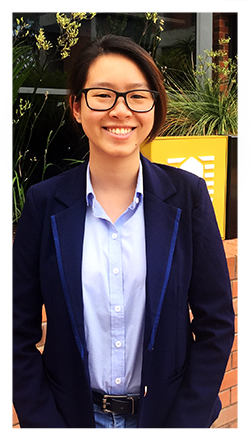 Ms Tram Nguyen
In Tram's words;
I have always been interested in chemistry since I was in high school.
The fact that you can make different kind of alloys that can be applied to real life situations just by changing the composition of the metal input is really fascinating.
As a university student, I am always supported by Curtin. The Engineering and Science department tries their best to give me chances to get my hands on real life process through the laboratories.
One of the labs really got my interest was the extraction of gold from the ore. Even though we didn't have the chance to deal with real gold due to high cost of gold, we actually had chance to extract metal out of the sample. In my point of view, it was a fantastic process.
Starting from a mixture between two things, by using the differences in their physical and chemical properties, we are able to separate them. That's why I really like metallurgical field.
With the support of Rowe Scientific, through the Rowe Scientific Metallurgy Scholarship, I will be able to spend more time on my study. It also helps me prove that hard work will be rewarded. Thank you for your generosity and all your supports.