Rowe Scientific offer the the range novaLUM rapid ATP (adenosine triphosphate) swabs. These are room-temperature stable, self-contained, single service tests that enables total surface hygiene verification in only 5 seconds, allowing real-time corrective action. The PocketSwab Plus ATP swab is relied on for cleaning verification and validation of sanitation and hygiene practices to help prevent cross-contamination and microbial challenges due to ineffective sanitation procedures. Data is collected track/trended for HACCP documentation and food safety/quality audit purposes.
Used by the food processing, pharma and healthcare industries, the PocketSwab Plus gives managers an objective tool for monitoring sanitation practices and hygiene control.
The PocketSwab Plus rapidly verifies a surface is clean so workers can safely proceed with food production or providing clean rooms for patient admission.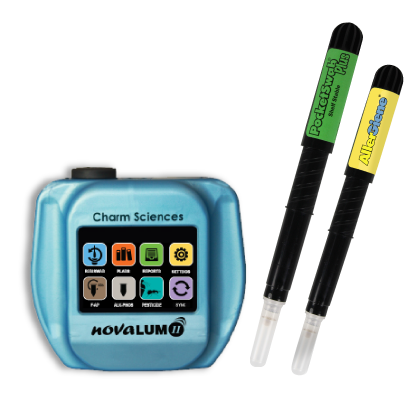 Let Charm novaLUM II make the invisible visible.
Charm Sciences novaLUM II can verify and document high-touch surface cleaning effectiveness in just 5 seconds.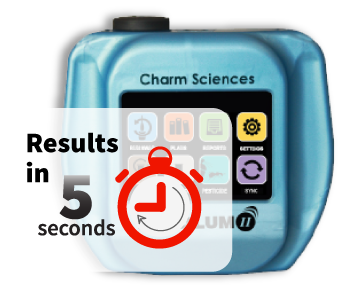 Look no further than Charm novaLUM IIX ATP Detection System from Rowe Scientific for verification of your cleaning.
Real time verification of cleaning – fix now before it's too late.
Detection of ATP within microbial biofilms with Charm's unique swab chemistry
Pre-delivery programming of the novaLUM IIX with your site-specific sampling plan
Room temperature-stable PocketSwab. Used with the novaLUM II-X, your result in 5 seconds
Audit-compliant (>16,000 stored readings, Re-test option, Swab site location)
Advanced sensitivity
PocketSwabs™ are room temperature stable
Free software and audit compliant
Safe and easy to use
Sodium Azide free swabs